Consensus has long ruled against the capture of wild elephants. Now that the existing domestic population is in old age, owners are left wondering what comes next
Standing in front of a traditional thatched roof Bunong house, 41-year-old elephant owner Han Samoeun watched as two tourists were led back into his village, Putang, atop his brother's pachyderm.
Like most of the domestic elephants in this hamlet, an elephant tourism hotspot in Mondulkiri's Sen Monorom district, Samoeun's female elephant Noeng Pajal, aged 56, is in her twilight years.
Almost all are aged over 50, and with an elephant life expectancy of about 65 years, the population is starting to dwindle.
The era of elephants in Bunong villages could be coming to an end.
"The Forest Administration does not allow villagers to catch [elephants]. We do not know how to deal with it," explains Samoeun.
"I worry that it will make things difficult when the elephants get older and die."
Cultural imperatives
From building Angkor Wat to farming in Cambodia's most remote corners, elephants have for centuries played a central role in Cambodian society, nowhere more so than the ethnic Bunong communities in the country's east.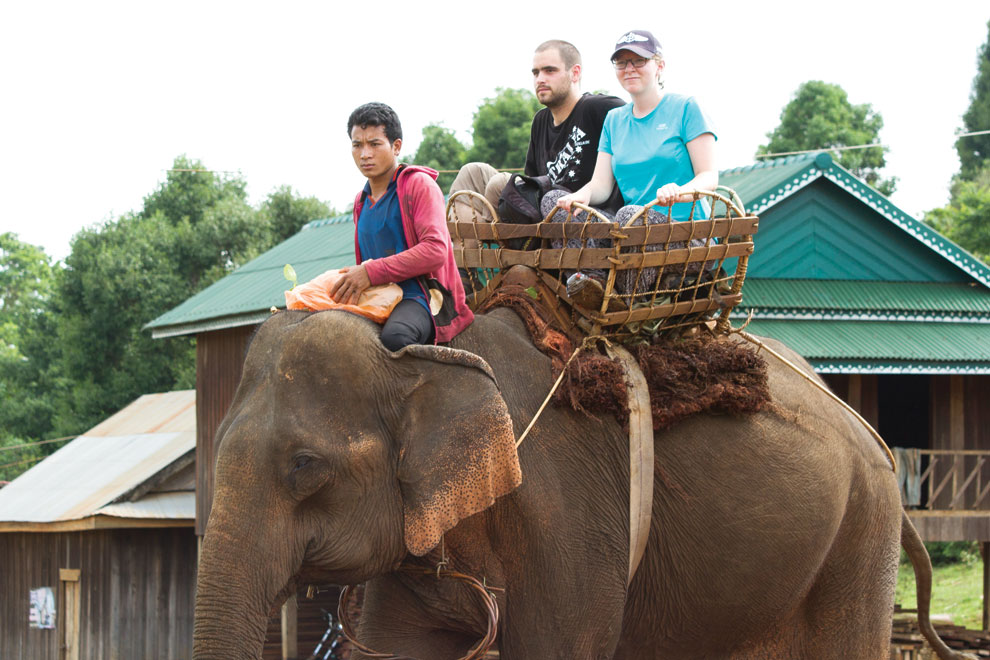 However, trapping and taming wild elephants has been outlawed since the 1990s, and importing them from other countries is illegal. 
It's a ruling whose logic is rarely questioned: Cambodia only has somewhere between 400 and 600 elephants remaining in the wild, with habitat loss and poaching continuing to threaten their numbers. 
But for the Bunong, who have kept elephants for centuries, the inability to recruit new animals to supplement their ageing herd means confronting not only a significant loss of income, but also a future without the creature at the heart of their animist religion. 
Standing outside his concrete two-storey house, Putang assistant village chief Nheum Buntith, 45, explained that in Bunong culture, elephant spirits are worshipped and appeased, often through sacrificing chickens and cattle, or by praying in the community's sacred spirit forest nearby. 
One reason for the dwindling numbers is that the Bunong consider it taboo for elephants to breed in the village without a costly elephant wedding ceremony, involving many animal sacrifices.
Now, even if they could afford it, few female elephants of breeding age remain. 
When an elephant dies, the village holds a ceremony "like a human's". 
Most elephants, said Buntith, have been passed down through families and are owned by a collective. 
"My kids and grandsons or daughters see the elephants, but the next generation will not," he said. 
"When there is no elephant, there is no praying for the elephant, so we lose the tradition when we lose the elephant." 
His elephant Kham is over 100, he claims, and was passed down from his grandparents. 
Nearby, down a dusty track, Tun Thoek minded his father's elephant Pork as it devoured bushes.
The 23-year-old expanded on the elephants' place in the community.
"They are not part of the village, they are part of the family," he said.
The intimate link between the Bunong, elephants and nature is documented in The Last of the Elephant Men, a documentary by Canadian filmmakers Daniel Ferguson and Arnaud Bouquet, currently doing the global film festival circuit.
A six-year project, the pair lived for long stretches with Bunong families in Mondulkiri.
They made the film in order to highlight land encroachment's parallel threat to ethnic communities and biodiversity, particularly wild elephants. 
Among their three central subjects was Bao Mrey of Memong village, one of the last surviving "Kru" (teacher), and a legendary elephant catcher, who has since passed away. 
The film follows his quest to appease the elephant spirits for taking too many elephants from the wild, a transgression he believes is responsible for his deteriorating health. 
In the opening scene, Mrey narrates the legend of the elephant's origin, speaking of people who long ago ate magical fish and turned into elephants. 
"He was really the last elephant man, the shaman who could speak to elephant spirits and ask for permission [to catch elephants]," said Ferguson, speaking via Skype.
An impending threat 
Reflecting on his time with the Bunong community, Ferguson said he felt confident that domesticating wild elephants was a thing of the past.
"People still talk about catching elephants, but it's done, it's gone," he said. 
But some worry that it won't stay that way. Although not an immediate threat, Alex Diment, senior technical adviser at Wildlife Conservation Society (WCS), said elephant trapping was certainly a risk as numbers dwindled. 
"It is possible that there will be pressure for wild capture for tourism and other purposes.
That, at the moment, with the population the way it is, is indefensible." 
The WSC, together with the World Wildlife Fund, is currently conducting a survey of all elephants in Cambodia's eastern plains, across Seima Protection Forest, Phnom Prich Wildlife Sanctuary and Mondulkiri Protected Forest.
Domestic elephants will be sampled, but not included in the wild count. 
The survey will use DNA data, from the creatures' dung, to give an indication of the current population and compare it to previous studies, which have indicated 116, 136 and 21 elephants, respectively, in the three protected areas.
The elephants' migration patterns will also be analysed to see how they're responding to shifts in their environment. 
Diment said that although core protected zones were holding out, buffer areas had been severely affected by land encroachment, with at least 10,000 hectares of forest, including potential elephant habitat, lost over the past two years. 
It may be another six months before any details emerge on numbers. 
However, WCS's Matthew Nuttall, a leader of the study, said that early indicators suggest key movement corridors between the three protected zones may be getting cut off, fragmenting populations into isolated groups and compromising genetic diversity. 
Sitting inside his wooden, traditional home in Putang village, across from several sacred jars used for making alcohol, grandfather and elephant owner Nhang Sreul, 59, said he worried about what would happen after 65-year-old elephant Chi Tort, who "gets mean and hits with her trunk when hungry or tired" dies. 
He said he had previously asked the Forestry Administration for permission to catch another elephant, but the request was refused.
Sreul said that he, like other villagers, respected and understood the law, and pointed out that with the exception of one community in Koh Nhek he doubted anyone among the Bunong would have the skills to trap and train an elephant even if they were allowed.  
The father of 10 added that he suspected that a lack of elephants wasn't the only reason Bunong culture was changing.
He questioned the willingness of his grandchildren to take over the family's elephant-based business, which three years ago shifted focus from farming to tourism. 
"The current generation is not so interested in elephants, they get a better education than us and they are able to find good jobs like teachers or doctors," he said. 
"We may be illiterate, but the majority of the next generation will not know how to celebrate the prayer for the elephant," he lamented.
 Money worries
Jack Highwood, founder of the Elephant Livelihood Initiative Environment (ELIE), which runs the Elephant Valley Project in Mondulkiri, said it was important not to over-emphasise the cultural significance of domestic elephants. 
"It is a highly contentious issue, but I think people arguing the cultural point of view is a way to continue to access the economic benefits elephants can bring in," Highwood said.
He estimated that Mondulkiri's captive population of about 40 was split evenly between tourism and logging – both lucrative businesses – with some occasionally still used for traditional agricultural work. 
He added that two elephants from Mondulkiri and one from Ratanakkiri were recently sold off by families to work in Siem Reap's Angkor Wat. 
Highwood said that the key to extending the lifespan of captive elephants was persuading owners not to overwork their animals. 
"Captive elephants aren't going to die out in the next two or three years, especially if there's veterinary care provided, but you are going to see in the next 30 years the population decline to a small number." 
With ecotourism growing in the region and visitors paying about $30 a pop for elephant experiences, resting can mean significant loss of cash – a reason why some remain reluctant to use ELIE's free veterinary care service, which works with Bunong communities across the province. 
Highwood suggested importing elephants from zoos in the European Union and the US as a way to reduce any future pressure to allow wild capture, a sentiment echoed by WCS's Alex Diment, who suggested importing elephants from Myanmar. 
Nut Menghor, head of the Forestry Administration's biodiversity team, said the issue of what to do when domestic elephants died out would be challenging, adding that the government had yet to have a conversation about importing the species.
"It has been an important thing for our ancestors and for our country, and elephants in the past have been a very important part of Angkor, agricultural practices and we've even gone to war on the backs of elephants," he said. "But we also recognise [that] maintaining domestic elephant populations is going to be difficult, so it's a challenging issue.  
Outside the WCS Seima ranger station, attendees of the organisation's annual community planning meeting reflected on an uncertain future.
Elephant owner Nhan Srev, 60, said that his elephant Chy Chan – who is the same age as him– now rested for periods at the Elephant Valley Project to help recover from the burden of farming, transportation and tourism. 
"We want the elephant to be preserved and taken care of in good way," said Srev, who inherited his elephant from his parents. 
"I would like my kids to continue my work. It is the legacy from our ancestors."
Contact PhnomPenh Post for full article
Post Media Co Ltd
The Elements Condominium, Level 7
Hun Sen Boulevard
Phum Tuol Roka III
Sangkat Chak Angre Krom, Khan Meanchey


12353

Phnom Penh




Cambodia



Tel: +855(0) 23 888 161 / 162
Fax: +855(0) 23 214 318