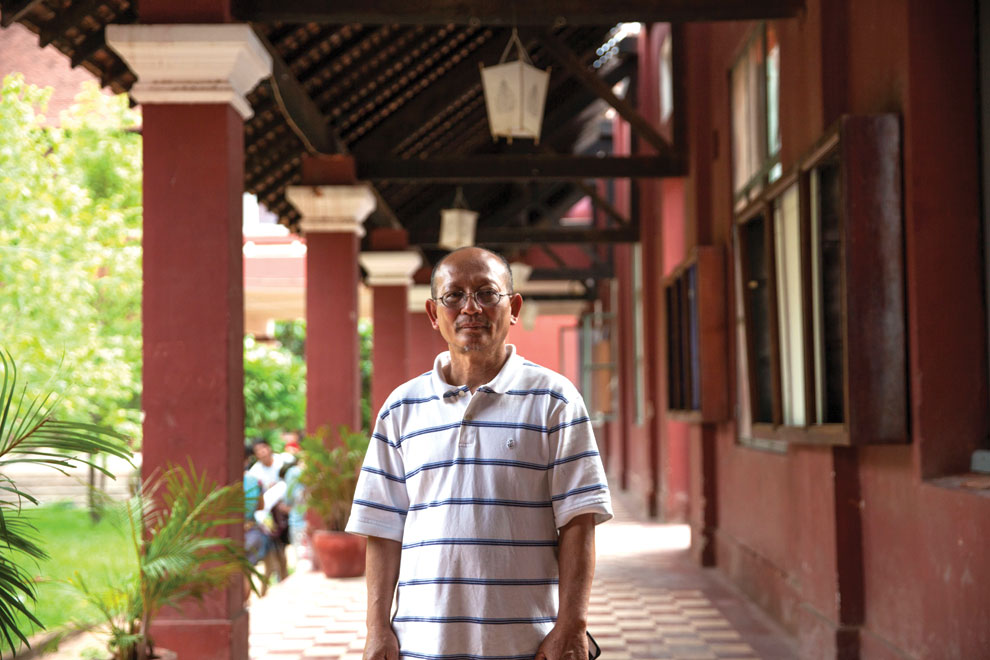 Yary Ivan is one of a handful of potters to survive the Khmer Rouge. After years of displacement, he has found solace through the traditional art that kept him going through the darkest of times
Yary Livan can navigate the Royal University of Fine Arts from memory, even the buildings that are no longer there: the roofless shell of what used to be the architecture faculty, and the relocated pottery workshop where he first learned to throw on a wheel.
"They've got rid of my kiln," he noticed, pointing to the spot where he used to fire his ceramic pots.
This week was the first time in 14 years that Livan has returned to the school that taught him how to be a master ceramicist – one of only four known to have survived the Khmer Rouge, and one of only two still active.
He left Cambodia hastily in 2001, after he says his political affiliations with the opposition led to him having a gun pulled on him by a policeman.
With the help of a letter signed by opposition leader Sam Rainsy, Livan was granted residency in the US, and his family quickly followed.
"It's the land of opportunity," Livan said of life abroad. And while many would see this milk and honey vision of America as little more than a dream, Livan has good reason to revere his adopted home as a land of bounty.
Arriving in Lowell with no English, he found himself bombarded with offers of assistance from an already established Cambodian community.
"They announced to the public that Mr Livan was here now and that he needed help to stay with clay," Livan recalled.
"So some people bought me clay, or donated a potter's wheel."
Only a year after his arrival, Livan became a visiting artist at Harvard in the art department. He still spoke no English, but his mentor, the celebrated ceramicist Nancy Selvage, reassured him:
"You just need to open your mouth, and if they open their ears, they will understand you.
If they've got closed ears, even if you speak well in English, they won't understand."
Livan stayed at Harvard for three years, recreating traditional Cambodian designs from memory and a worn Khmer design book he'd bought with him.
"The most popular in America are the elephant pots," he said. "I can make 100 of them and they'll sell straight away."
While the potter is feted for his role as a keeper of traditions, he said it was important to distinguish between preservation and mindless replication.
"I could make a thousand and they wouldn't be exactly the same," he insisted, adding that the same could not be said of the work he'd seen during his return trip to Phnom Penh.
"Each generation is getting a bit worse with their technique – they're changing to another culture, not a Khmer culture," he said with a frown.
His trip to Phnom Penh this month came on the back of securing a National Heritage Fellowship – the US's most prestigious award for heritage conservation.
Livan's obsession with the preservation of tradition is not surprising given his history.
Born in 1954, the Battambang-native was four years into his studies at RUFA when the Khmer Rouge seized power.
Livan's beloved university became a food storage centre for soldiers, and he was marched out of Phnom Penh to a village in Kampong Chnang.
Initially assigned to work constructing dams, he was saved from hard labour when his mother saw the Khmer Rouge struggling to build a kiln to make roof tiles.
"She never said I was a potter. She told them that I'd worked fixing cars so maybe I could help them with the engineering," he recalled.
Livan spent the next two years building a kiln and coaching the Khmer Rouge in how to run it. He was slow in revealing the art of firing, afraid of what would happen to him once he was surplus to requirements.
"I'm lucky that the Vietnamese arrived before I taught [the cadres] to use it," he said.
Back in Phnom Penh, Livan found himself working for the pro-Hanoi Kampuchea Newspaper, where he was a graphic designer and a caricaturist.
Fed up with producing propaganda, and with being sent to Vietnam for stints of artistic "re-education", he tried to emigrate abroad via the Thai border but arrived too late and without a sponsor.
He spent eight years in the Khao-I-Dang refugee camp, where his artistic training again proved itself useful in ways he could never have foreseen, allowing him to earn a good living selling oil paintings of the Thai king.
When the border camp closed for good in 1992, Livan returned to Phnom Penh, and stayed there until his US residency permit was finally granted in 2001.
Livan, who is now planning to set up a ceramics export business with friends in Phnom Penh, said that despite the awards and acclaim, his proudest achievement wasn't his art. It's his kiln: a smokeless, brick construction that Livan painstakingly built via trial and error in the heart of Lowell.
This time around, he isn't making roof tiles for the Khmer Rouge, but firing the intricate ceramics that his students at Middlesex College and others in the community bring to him.
"Some people look at Cambodia in a negative way – killing and corruption," Livan said. "But they put up a sign on the kiln saying that it was a Cambodian kiln.
I was so excited that they wanted to show off the Khmer style. It shows something – that Cambodia does something good."
Contact PhnomPenh Post for full article
Post Media Co Ltd
The Elements Condominium, Level 7
Hun Sen Boulevard
Phum Tuol Roka III
Sangkat Chak Angre Krom, Khan Meanchey


12353

Phnom Penh




Cambodia



Tel: +855(0) 23 888 161 / 162
Fax: +855(0) 23 214 318