Phnom Penh has its first home for board games a three-floor haven for amateur and expert gamers alike.
The Puzzle Chamber, which had its grand opening last weekend after a soft opening in late November, is an ambitious concept by partners Som Sovanrothanak and Troy Garkey. It features 200 new games, from Jenga, Panic Tower and Settlers of Catan to Tsuro and even a Malaysian version of Cards Against Humanity called The Lepak Game. It also has a full menu of Khmer and American food, as well as coffee, beer and liquor. Seeing a lack of entertainment options in Phnom Penh beyond drinking and eating, Garkey saw an opportunity.
"There are certainly enough bars, but aside from going to the movies or playing sports or something, there just aren't a lot of unique things to do in the city," he says. So Garkey ran the idea by the Kampot native Sovanrothanak.
At first, he was sceptical. Board games are rare in Cambodia, and apart from Monopoly and Uno, nearly impossible to find. For Sovanrothanak, it was an entirely new concept. So they went together to Kuala Lumpur, where board game cafés are common.
"When we were researching in Kuala Lumpur, it surprised me a lot," Sovanrothanak explains. "Lots of locals supported the cafes and it was busy every night, and I thought: 'This is really nice and would be very interesting if we opened this business here.'" Malaysia has a board game culture, however; it has distributors and many locals grow up playing the games. Cambodia, by contrast, is basically starting from scratch.
Troy and Sovanrothanak had to coordinate with friends in Thailand and Malaysia to bring over the 200 new games. They then hired "gamemasters" – a group of four Cambodians who are also fluent in English. They then flew their head game master, Kong Putheanokol, out to Malaysia for training.
Over the course of one month, he learned the ins and outs of 50 games and has now taught the other three. At The Puzzle Chamber, the $3 fee per player for three hours (or $1.50 per hour) includes access to one of these experts, who will explain the rules. This approach is in line with the bar and café's educational component. Already, teachers from universities like Limkokwing have brought students in to play. They are now regular visitors.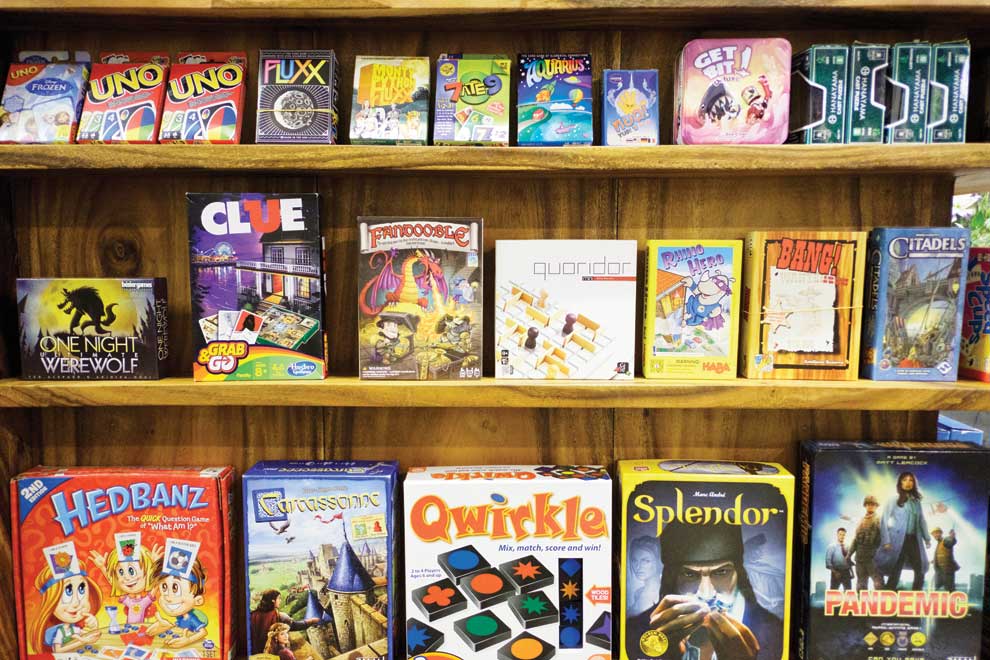 "A lot of my childhood memories and learning experiences involve board games," Garkey says. "On a rainy day, that's what you did before smart phones."
Beyond entertainment, board games help to cultivate abstract thinking, he says. For example, thinking about how to convey an idea without words in games like Pictionary is a creative mental exercise that could help to approach more practical problems in life.
"It's a thought process that isn't taught at a young age in this country," Garkey says. "If we can do it through games, that would be really cool."
Eventually, The Puzzle Chamber owners would like to send their masters to local schools, with several games in hand, to teach students how to play.
They also hope to set up a board game distribution system in Cambodia, where the difficulty of finding games leads to prices nearly double those in the United States and Europe. But for now, The Puzzle Chamber crew is trying to slowly spread the word that there is a whole gaming world out there beyond the staples. "The first time [students] stuck to familiar games," Garkey says. "The next time, we hid Monopoly and Uno and they loved the other games they found."
The Puzzle Chamber is located at #1 Street 174. It is open every day from 7:30am-11pm or later.
Contact PhnomPenh Post for full article
Post Media Co Ltd
The Elements Condominium, Level 7
Hun Sen Boulevard
Phum Tuol Roka III
Sangkat Chak Angre Krom, Khan Meanchey


12353

Phnom Penh




Cambodia



Tel: +855(0) 23 888 161 / 162
Fax: +855(0) 23 214 318