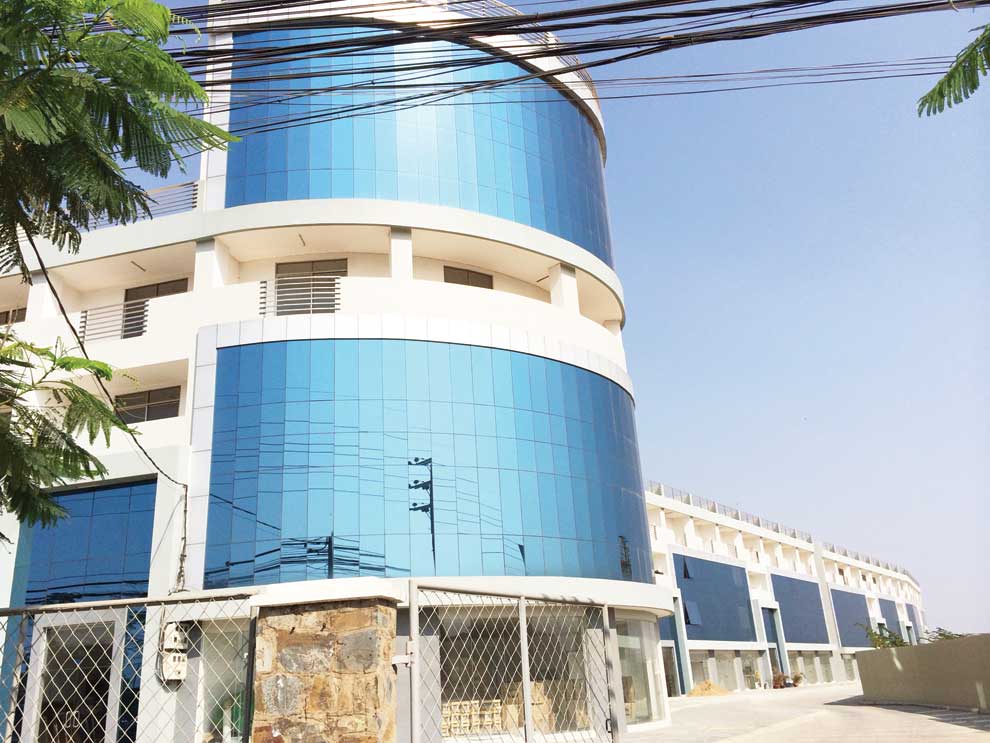 After postponing construction due to the 2008 economic crisis, work on the ambitious Cambodia Plaza is gradually being resumed.
The plaza is a mixed development project along Russian Boulevard close to the western end of the 7 January Overpass.
Cambodia Plaza project manager Adam Liv said the project is moving forward, and four floors of office space will be open next month, while a three-storey hotel with 72 rooms and an automobile showroom will open together at the end of the year.
Some parts of the project continue to be on hold, he added.
"The supermarket and the apartment units have been on hold since 2009, and I don't know when the projects will restart," Liv said, adding that the project owner is hiring an American architect to redesign and develop the blueprints of the mall and hotel, replacing the previous ones prepared by a Chinese designer.
According to Liv, Cambodia Plaza occupies 15 hectares, and half of the land would be used for gardens and a landscaped lake.
Liv was unable to confirm the total investment capital for the project, but said that $3 million has been spent on compacting the land.
He added that 20 houseshops have been completed, with an occupation rate of 50 per cent.
Cambodia Plaza is being developed by Lipo Politan Corporation in cooperation with Knight Frank, which will be managing the office space and property services.
Po Eavkong, managing director of Asia Real Estate, said that the project had not seen any remarkable developments since being put on hold in 2009. However, he also noted that, since the completion of the 7 Makara Flyover, access to the project had improved.
He also noted that the overpass, with its attendant traffic noise, might be a disincentive to potential homeowners.
In theory, Eavkong said, apartments in the area might sell for as much as $290,000, but since the completion of the nearby flyover demand had been weak, and apartments might actually sell for as little as $220,000.
General manager of VMC Real Estate Dith Channa said the fact that the project had been subject to such long delays made it more risky because there were now so many competing projects.
But he also pointed out that for Cambodia Plaza itself, the flyover was more of an advantage than a problem.
Because the project is located on the main road and at a distance from the flyover, it was unaffected by traffic noise, he said.
Contact PhnomPenh Post for full article
Post Media Co Ltd
The Elements Condominium, Level 7
Hun Sen Boulevard
Phum Tuol Roka III
Sangkat Chak Angre Krom, Khan Meanchey


12353

Phnom Penh




Cambodia



Tel: +855(0) 23 888 161 / 162
Fax: +855(0) 23 214 318