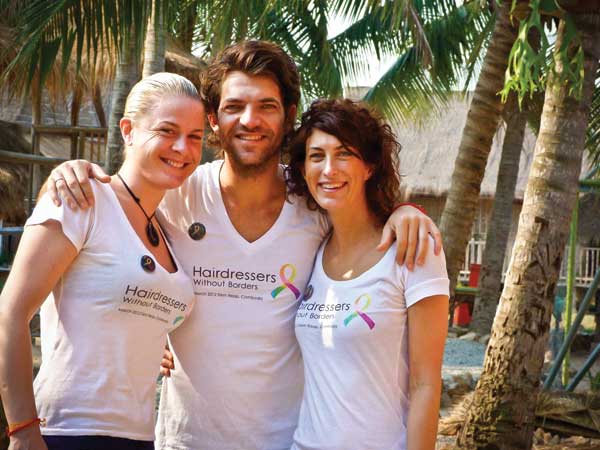 So you've heard of Reporters Without Borders right? Now a new organisation, with the same ethos, has found a different way of going about things. They are Hairdressers Without Borders. And they've made Siem Reap the first destination on their quest to change the world, one snip at time.
The Belgian trio of HWB is made up of hairdressers Esther Nieremeijer and Katrijn Calleeuw, along with art director Fabio Palazzini who came to document the endeavor.
The group spent two weeks with The Green Gecko Project where they set up a salon and cut the hair of over 100 children and adults.
"Everything started from a call from Katrijn,"  explains Esther,  who added that they organised publicity and events to drum up support, and ended up with lots of media interest.
Esther says it was thrilling to attract such attention for the project.  "It was really nice to be part of this energy. During the last event in Antwerp, with more than 200 people, we received a cheque for 4000 euro (US$5,150) from the Paul Mitchell brand to support the project."
Armed with the cash and their hairdryers, they made their way (after a six-day flight delay in Paris) to Siem Reap.
During the stay, the group not only pam-pered the little ones but mothers were treated to makeovers too. For International Women's Day, Green Gecko families visited the centre, while HWB also took a trip out to Grace House Community Centre to meet ladies there.
"Katrijn and Esther are full of energy, passion and enthusiasm and it was fabulous to have them think about how they could use their hairdressing skills in a creative way," said Clementina Velasco from the Green Gecko Project. "The day gave our staff the opportunity to talk about health and hy-giene in a relaxed and fun environment."
Pisey Khim, manager of the Women's Resource Centre, was also on hand to chat with the women and help celebrate.
For the HWB team, the project was about much more than making the kids look great.
"The haircut, it's a new experience for them, something special to let them think about their value as a person… it's a great occasion to smile together, sharing this experience making everyone more close and connected each other."
Of course Cambodia being Cambodia, any swanky salon will encounter inevitable issues, and the HWB team sure did. But Clementina says the kids and the pros took this in their stride.
"While rolling power cuts stopped the blow driers and hair straighteners in their tracks on a few hot mornings in the salon, the older kids were unfazed and got into the spirit, helping their younger siblings shampoo and de-lice as well as straighten and style."
Esther says education is another fundamental aspect of the initiative, to pass on a trade to the young people they work with, "We believe that the key is education, without it there is no future for them.
Teaching is a good instrument to share and to give them the opportunity to be inspired professionally about hairdressing."
Clementina agrees this has had a positive impact on some of the children, "One of our oldest girls, Srey Lai, has shown a keen interest in pursuing hairdressing as a career. Being an apprentice to Katrijn and Esther was a fantastic way for her to get a taste of what hairdressing would be like."
While the team have arrived back to Europe they are still raising funds for The Green Gecko project and plotting their next mission.
They may be in a salon in Belgium, but Esther says their hearts have stayed in Siem Reap.
"Usually in our world the value of experience is counted by profit. On this occasion after Green Gecko in Cambodia we are back in Belgium and we feel very rich, but inside."
Contact PhnomPenh Post for full article
Post Media Co Ltd
The Elements Condominium, Level 7
Hun Sen Boulevard
Phum Tuol Roka III
Sangkat Chak Angre Krom, Khan Meanchey


12353

Phnom Penh




Cambodia



Tel: +855(0) 23 888 161 / 162
Fax: +855(0) 23 214 318