The travel and tourism sector was heaving back to life as borders started to reopen, promising a festive vibe for the holidays and New Year. But Omicron and other Covid-related issues are threatening to close the year on a bleak note
'Seems [like] Covid-19 won't allow us to start travelling till 2030," Thourn Sinan, chairman of Pacific Asia Travel Association (Cambodia chapter), muttered as global anxiety rose over Omicron, the latest variant discovered by South African scientists late November.
Since then, the variant has been detected in around 20 countries including those in Africa and Europe, as well as Israel, Saudi Arabia, Australia, Hong Kong and Japan.
"This is the newest threat to our industry … everyone knows that Cambodia is just re-opening without quarantine but now another crisis [has hit]," he told The Post.
News of the variant gripped the industry as Cambodia imposed a ban on travellers from 10 Omicron-affected countries in Africa and those who visited these countries in the last three weeks.
However, it retained the no-quarantine policy for vaccinated travellers from other parts of the world.
At the time of writing, Prime Minister Hun Sen asked the Ministry of Health to consider lifting the travel ban on African nations, saying that a compulsory polymerase chain reaction (PCR) test on arrival was adequate to keep the variant at bay.
Prior to the ban, Ministry of Health spokesman Or Vandine assured that there was "no need to panic", although she echoed World Health Organisation (WHO) representative Dr Li Ailan's warning over the "potential arrival of the variant" in Cambodia.
"The variant has a large number of mutations with possibly increased risk of reinfection and high risk of importation and spread, and managing uncertainties or unknown is a challenge," Dr Li said in a tweet earlier this week, urging everyone to "be ready".
Separately, Russian virologist Anatoly Altshtein of Moscow's Gamaleya Research Institute of Epidemiology and Microbiology, Sputnik V vaccine developer, told tabloid Komsomolskaya Pravda or KP that Omicron could "spell an end to the pandemic".
Russia state-owned media portal rt.com, which republished the article, wrote that Altshtein based his hypothesis on the high mutation rate, "more than the Delta variant", saying that it was "too many", which essentially meant that the virus possessed an "unstable genome".
"As a rule, this sort of infectious agent becomes less dangerous because evolutionary, an overwhelming number of mutations leads to a weakening of the virus's ability to cause a disease," he said.
In South Africa, where the variant was discovered, experts reported that patients infected with Omicron-variant SARS-CoV-2, exhibited mild symptoms although they cautioned against drawing firm conclusions, Reuters wrote.
'Fear factor'
Meanwhile, the prompt barring by Western governments, which sparked widespread criticism, triggered a domino effect of the same in Southeast Asia.
Countries like Philippines, which doubled-back on its plans to fully open its border, Malaysia, Singapore, Thailand and Vietnam joined the chorus to secure its borders.
"All of this happened in a matter of days of the WHO classifying Omicron as a variant of concern," observed Hannah Pearson, co-founder of Kuala Lumpur-based boutique tourism consultancy and sales representation firm Pear Anderson.
For Cambodia, the government's decision echoed the distress experienced during the surge in Delta variant cases after the first detection on March 31.
Attempts to seek clarification from Health ministry's Vandine proved futile.
What transpires from the closures is the severe impact on the travel sector, just as governments made buoyant moves to open its doors, as the year-end holiday season beckoned.
Given the regional "fear factor" present in previous phases of the pandemic, travel demand is likely to deflate in the region's holiday season, Christmas and New Year, and Lunar New Year.
"Some countries in the region were pinning their hopes on a partial travel revival in the next two to three months driven both by long-haul travel from Europe, Russia, North America, perhaps India, and travel within Asia," Gary Bowerman, Asia travel and tours and consumer trends analyst, said.
Travel restrictions in Europe and "possibly" North America, as well as some countries in Asia restoring entry barriers and quarantines would weaken long-haul and intra-Asia travel demand during the next couple of months at least.
It could be even longer depending on the results of the scientific sequencing of Omicron cases.
"Plus, of course, there will be justifiable concerns among Cambodians that international travellers could bring the new variant with them when they enter the country," he said vie email.
'Forced to add'
The tourism sector represented 18.7 per cent of Cambodia's gross domestic product (GDP) in 2019, employing about 620,000 people, which made it a key economic driver after the construction sector, the World Bank noted last year.
In 2020, as tourist numbers plunged 80 per cent resulting in the loss of thousands of tourism jobs and the closure of over 3,000 hospitality businesses, contribution to GDP growth shrank to three per cent.
However, inbound tourism continued to record arrivals, albeit at a dismal level, Ministry of Tourism data showed.
Between January and September this year, the segment saw 131,674 international tourists, which was a 74.1 per cent drop from 1.2 million tourists in the corresponding period last year.
And, all of 2020 only saw 1.3 million tourists, 76 per cent of whom comprised those from Asia Pacific, specifically China, which represented Cambodia's largest tourist market.
This was followed by ASEAN (38 per cent), Europe (17.2 per cent) and Americas (6.4 per cent) while tourists from Africa only represented 0.2 per cent of the total.
Although African markets are not major source markets for Southeast Asia and therefore will not impact arrivals in the short-term, there are a few implications, said Pearson, who specialises in the Muslim and Southeast Asia travel industry.
"The first being that as the variant spreads to the region's source markets, [such as] Europe and North America, countries here will be forced to add them to the entry ban.
"Another implication of these travel bans is a psychological one for travellers – we have not seen these snap border closures for many, many months, and the fact that governments are taking decisions so quickly may instil a general fear of overseas travel, in case they get stranded overseas," she added.
That being said, if the vaccines are proven to be effective against the Omicron variant, Cambodia and Southeast Asia could be in a strong position to attract tourists, with its growing vaccination rate.
In some instances, Pearson cited, the region's vaccination programme was "much higher" than that of European countries, or even the US, as in the case of Cambodia.
Dry spell, fourth wave
In the meantime, China's zero Covid-19 policy implemented on the back of rising cases has led to travel restrictions, including strict measures on border control.
Being a major source market for the region, the move by the Chinese government has pushed back hopes of recovery in the travel sector.
With the discovery of Omicron, it is not likely to encourage China to reopen its doors and allow outbound travel.
"We will see this dry spell [in the travel sector] to continue well into the first half of 2022, if not into the second half, if the variant is particularly aggressive," Pearson told The Post via email.
Added to that, is the risk of a fourth wave hitting Europe this year.
"With European travellers currently making up a majority of tourist arrivals into the region, if quarantines are imposed on returning travellers, it could have a serious impact on the year-end arrivals, further eroding the number of potential source markets for the region," Pearson said.
'Big or small'
A few weeks ago, Cambodia was the first in the region to scrap quarantine requirements and open to vaccinated travellers, a decision that was based upon its high vaccination rate, which is about 80 per cent, and the need to revive the economy.
Good vibes from the announcement reverberated in the travel sector, as two or three regional airlines reactivated and increased flights in and out of the three airports in Cambodia.
According to the State Secretariat of Civil Aviation (SSCA), six airlines have applied to resume flights, which would see 43 new weekly domestic and international flights this month, with priority given to passenger flights within ASEAN.
Passenger movement is expected to be negligible though, given the effects stemming from the turn of events.
For instance, between January and September this year, less than 200,000 people flew into Cambodia compared to 2.1 million a year ago.
Chhay Sivlin, president of Cambodia Association of Travel Agents, said Omicron's impact on the inflow of tourists, whether "big or small" is unavoidable.
She said for now, it was safe to wait and monitor the strength and transmissibility of the variant, while the authorities come up with new regulations to secure the country.
"The fact that we banned travellers from 10 African countries shows that we care and have taken into account the wellbeing of tourists and locals [in order to] prevent a potential spread.
"The move is to build confidence in travellers and act as a strict measure for those who are welcome to Cambodia," Sivlin said.
Domestic travel stands in
Against this backdrop, domestic travel has been seeing a revival over a few weekends and two religious festivals, Pchum Ben in October and the Water Festival in November, relieving pent-up travel demand.
During the period of the Water Festival alone, in the middle of November, $88 million in tourist receipts were collected from 1.14 million domestic tourists who visited the capital city, coastal provinces Preah Sihanouk, Kampot and Kep, and Cambodia' crown jewel Siem Reap.
In the first nine months of the year, internal tourism in Phnom Penh, Siem Reap, and coastal zones recorded 2.25 million local and foreign tourists, with locals representing the larger group. In contrast, internal tourism recorded 6.22 million people in the same period in 2020.
While domestic tourism has picked up, Sinan of PATA ruled that it is only a "short-term help" for the hospitality sector.
Much of this industry-wide view is underpinned by the spending power of tourists, which pales in comparison to international tourists.
"Small medium enterprises can earn well from domestic tours but not the medium-sized ones. However, several four and five-star hotels in Sihanoukville are enjoying a spurt in local tourism," he said.
While pictures shared by holidaymakers on social media might reflect a recovery in the sector, industry players have yet to experience this apparent development.
Siem Reap-based Cambodia Travel and Tours owner Kheng Chantrea said he has not reopened business as there are "no customers", despite visits by over 110,000 tourists in the province during the Water Festival season last month.
"We plan to do it in the middle of next year but we have to see if the situation is better. We just saw the news of another variant in South Africa," he said.
Hoeng Kong, senior vice president of World Pop Travel and Tour in Phnom Penh, said they had been closed since the lockdown that followed the February 20 event which resulted in a spike in Covid-19 cases.
While they retained all their staff for the first few months, they had to put "more and more" staff on a "suspended" list.
"It was a painful decision each time [we did that]," Kong recalled, adding that tax breaks and wage subsidies could not compensate the loss from operating expenses.
"Subsidies and tax relief [only] served as a kind of encouragement by the government," he said.
As the industry recovers, he expects domestic tourism to persist, although that most locals prefer to travel in small groups of family and friends.
"I would suggest that local suppliers, mainly hotel accommodation, incorporate with travel agents on tour packages which can fill the empty room on weekdays.
"The government could provide travel incentives for tourists who purchase domestic tour packages," he said, with the hope of capturing some business from local visitors.
Mutual vaccine recognition?
Given the initial enthusiasm of opening borders in the region, a critical discussion of mutual vaccine recognition in Cambodia has been somewhat missing.
To date, there have been no announcements of such engagements with ASEAN counterparts and other regions.
Ministry of Tourism spokesman Top Sopheak did not respond to questions.
US-based Fitch Ratings Inc said although Cambodia's vaccine drive was high, the types of vaccines used may remain an "obstacle" to a fuller opening up to international travel.
Having used mostly Chinese vaccines, they might not "earn the recognition of governments around the world", it said.
"Perhaps more importantly [it] may not be enough to assure international travellers to travel to Cambodia, given the lower reported efficacy rates for especially the Sinovac and Sinopharm vaccines.
"This will continue to deal a blow to the Cambodian economy, considering that tourism accounts for about a quarter of GDP in a normal year. Without tourists to prop up the services sector, domestic activity will be crucial to drive growth," it said in a note to investors last month.
Bowerman agreed that vaccine recognition remained an issue and would likely become "even more complicated" as more people receive their third booster shot, which may be different to their first two shots.
Even as more countries start to recognise Chinese vaccines, with UK and the US moving ahead with it recently, the primary issue that is being flagged, in China as well, is that immunity tends to wane against Covid-19 fairly quickly.
"And we are yet to learn how effective a third booster shot will be over the medium and longer term," Bowerman said.
At present, however, Southeast Asian countries are yet to fully recognise each other's vaccine certifications, and that does not deliver confidence for people travelling into the region.
Information is unclear but news reports state that Vietnam, Singapore, Indonesia and Malaysia were looking at signing agreements with each other to recognise vaccines, however, the process has been seemingly slow.
Unlike European travellers who felt confident travelling through 27 member states during summer based on vaccine recognition, long-haul travellers might not be able to visit more than one country.
"That will be a significant disincentive for many travellers who like to explore two or three countries in Southeast Asiaeach time. Those travellers are likely to take a wait and see attitude, in the hope that borders in the region are opened more liberally as 2022 progresses," he said.
Subdued Lunar New Year
Even as Cambodia ramps up safety measures at borders to protect its citizens, there is anticipation that tourism would help boost the economy in the coming year.
It remains to be seen if the travel sector can deliver the numbers that Cambodia and other governments are looking for.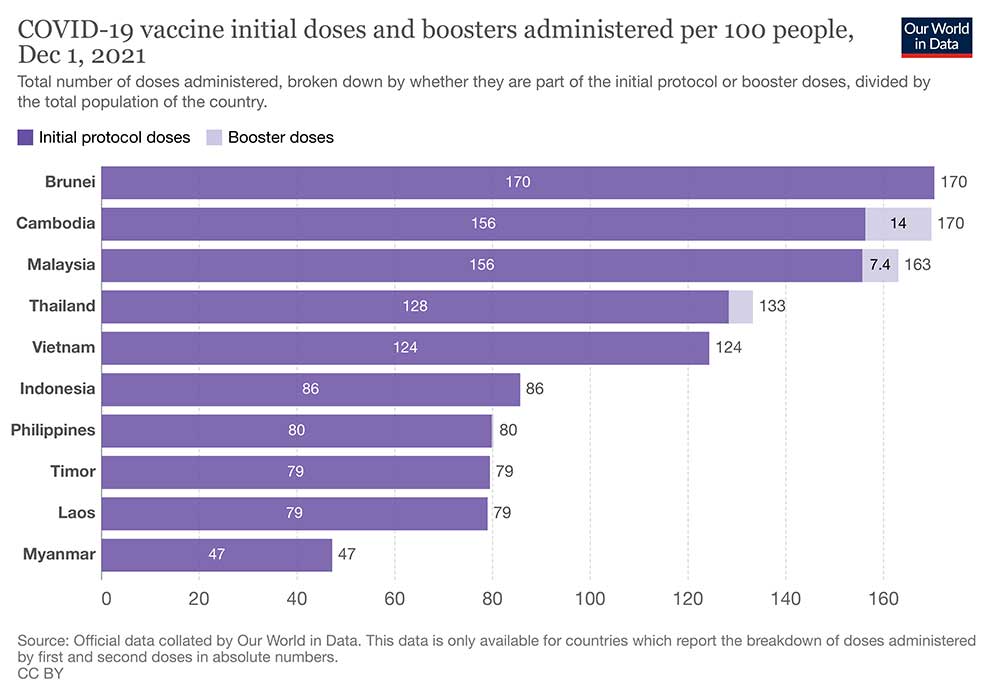 Having said that, the benefits of reopening would take time to show because most of the elements that caused the massive disruption of the past 20 months still linger.
"Covid-19 remains dangerous across Asia Pacific, and worldwide. In northeast Asia, the upcoming winter could put a break on travel from markets like Japan and South Korea, especially if cases continue to rise and hospitalisations increase.
"China is expected to remain closed at least through the first half of 2022. Hong Kong is also closed, and there isn't much traffic out of Taiwan. These are all vital source markets for [this region]," Bowerman said.
He believed that in the coming months, there would be a strong focus by Asian governments on booster shots.
Progress will be variable, as many countries are "still behind" in the race to complete their first phase vaccinations.
Therefore, the supply and demand for travel would remain heavily influenced by government policies, which may tighten if new infection waves are recorded.
Overall, he is of the opinion that Lunar New Year travel would be "very subdued" in 2022, and a better picture of the year might present itself only later.
"For the next three to four months, I think patience will be required as visitor numbers are going to be low in most of the region, even in Thailand. At present, it is simply too time consuming and too costly to travel for leisure.
"Even if countries like Cambodia reopen, tourists from many Asian countries have to overcome restrictions and potential quarantines when they return to their home country.
"Charter flights from Europe and Russia, perhaps India may pick up in December and January, but the numbers will still be soft compared to what destinations were accustomed to before the pandemic struck," he said.