As the Kingdom's largest economic sector comes to terms with the effects of Covid-19, industry players contemplate the changes it has to contend with till the economy recovers
The real estate sector is in the doldrums. Low foreign investments and pending projects are expected to slow growth by five to six per cent this year compared to 10 to 15 per cent a year ago, said Cambodia Valuers and Estate Agents Association president Chrek Soknim.
"This could be the new normal for the sector which relies heavily on foreign investment [to expand]," he said.
Since the start of 2020, some 68 per cent of high rise condominium projects were suspended while the rest experienced delays, Soknim said in a previous interview.
This phenomenon has an indirect effect on the economy.
High-rise condominium projects essentially made up the latest construction boom, the World Bank said in its latest economic update, warning that the end of the boom on the back of the pandemic could have a relatively muted impact on jobs.
"The Covid-19 outbreak has resulted in unprecedented demand shocks, while the property market already appears well-saturated after almost a decade-long [of] construction and real estate boom," it said.
Worldbridge International Group founder and chairman Rithy Sear acknowledged a marked slowdown in the condominium sector on the onset of the pandemic, but there has been an uptrend beginning June.
"We believe the market will stabilise and supply will not change significantly for the next few years," said the developer who pioneered affordable housing in Cambodia.
Economist Chheng Kimlong expects recovery to pre-Covid-19 levels to take up two years or more.
Although, he noted that in recent months, foreign direct investments from China, South Korea and Taiwan, as well as wealthier ASEAN member countries have continued despite the pandemic.
"The investments are a reassurance that the sector remains attractive for investors who are captivated by the [presently] low land lease rates, generally low land prices, and conducive terms on loans and interest repayments," he said.
In the meantime, sub-issues will dictate the new normal in the sector, CBRE Cambodia senior director James Hodge pointed out.
Like other sectors, real estate has been impacted by the pandemic and investors, developers and occupiers continue to adjust to the changes.
The adjustments that are being seen in the real estate sector vary by the industry with an impact that is visible. For instance, the office space sector is affected by the need to prioritise employee safety and health.
"What that means is increased focus on social distancing measures and even a re-think of the workplace strategy, to allow for remote working and better technology enablement.
"Every real estate sector has been influenced in some way by Covid-19, and are facing short-term challenges as well as the need to adjust for the longer term," said Hodge.
The mature market mark
For some 10 years now, the sector grouped together with construction has been the largest among four economic pillars which maintained the gross domestic product (GDP) at an average seven per cent.
Investments grew exponentially, driven mostly by Chinese investors, which helped to raise the profile and landscape of the country, and inadvertently the land price, particularly where mixed developments and public infrastructure projects were concerned.
From 2005 to June 2020, 114 out of 1,945 five-storey and above projects featured 30 to 39-storey towers, while 46 comprised 40-storey skyscrapers.
Based on World Bank's data, over 50 per cent of total foreign direct investment (FDI) originated from the greater China region (Hong Kong and Taiwan) in recent years, half of which was apportioned for the real estate and construction sector.
In 2019, the sector received the largest share of 51 per cent of total approved FDIs valued at $3.5 billion, with 43 per cent of that coming from China.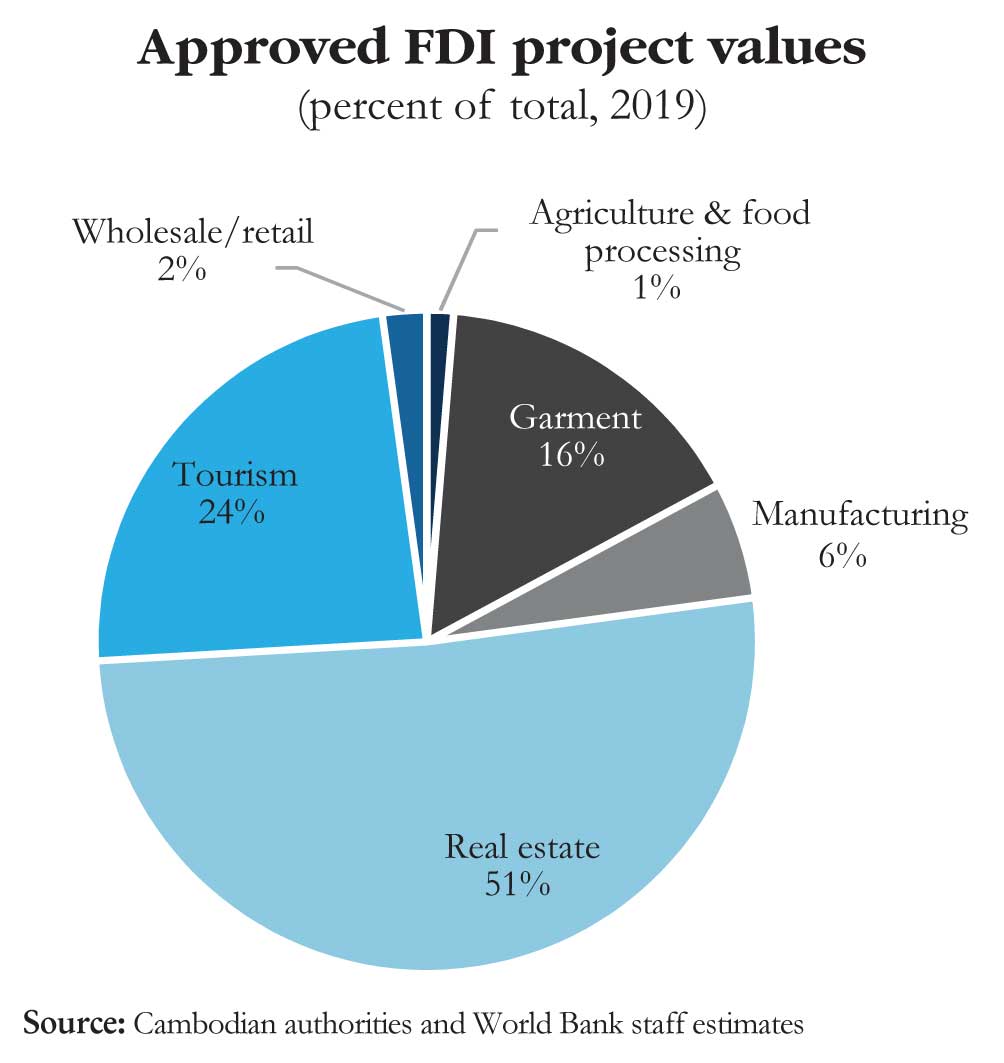 In the first half of this year, Land Management, Urban Planning and Construction Ministry showed that approved construction projects rose 13.3 per cent year-on-year to 2,522 construction projects with a total capital investment of $3.8 billion.
Out of that, 2,097 projects were residential ($1.8 billion), 220 commercial, 36 borey projects (gated community), 45 factories and 19 hotel projects.
Anthony Galliano, CEO of Cambodia Investment Management, said while Chinese investors have provided short-term support for the Kingdom's real estate market, it will likely be insufficient to halt an unpleasant deterioration in liquidity, rental prices, and real estate values, that can be quite substantial if the Covid-19 impact persists.
He felt that globally there is a sense of false optimism that the coronavirus economic effect has moderated and that economies will vigorously rebound, even though the Covid-19 effect and its economic consequences are still haunting key global economic centres such as the US and India.
Galliano said the real estate market in the Kingdom may have finally hit the maturing market mark on the trajectory, rather than an emerging market, as pertains to the main cities of Phnom Penh, Sihanoukville, and Siem Reap.
"Investors would be better off placing money on the table by investing in land, especially in the outer provinces; provided titling is secure, which is still on offer at reasonable prices.
"The main city commercial and residential sectors may be headed towards an acute downward price adjustment, with saturation in supply and heightened drop in demand," he added.
Traditionally, the sector is divided into residential and commercial. Transactions in the overall residential segment have been slow but there has been a slight uptick in the domestic market recently.
However, the commercial segment continues to languish, particularly Grade A office space, priced above $25,000 for a unit, Soknim said.
"Grade A office space is often preferred by international companies but lack of investors in the present period has resulted in vacancies. Some property owners have reduced the price to match Grade B office spaces [$10,000 to $15,000]," Soknim said.
In its 2020 second quarter (2Q20) report titled `How bad is the real estate market's cold?', CBRE Cambodia stated that five new projects consisting four Grade C buildings and one Grade B office space were completed, providing 27,100 square metres.
Over the quarter, the average occupancy rate saw a downward adjustment of 4.5 per cent, primarily due to new supply in the market and lack of transactional activity outside of lease renewals.
By the end of 2020, the market expects another 64,000 square metres spread over three grades.
Substantial pricing pressure
In May, the World Bank highlighted a potential rise in non-performing loans (NPLs), whether in mortgages or credit to the construction and real estate sector.
It noted that the share of outstanding bank credit financing to the combined construction, real estate, and mortgage businesses amounted to 31.1 per cent or $7.7 billion (28.6 per cent of GDP) by end-2019.
This concern was also flagged by global ratings firm Moody's Investors Service Inc in its latest credit report, although it mentioned that mortgage lending, which is backed by fundamental demand, is usually associated with lower NPLs.
Still, a significant rise in credit growth to the real estate and construction sectors is at particular risk of a slowdown.
Growth in lending to the sectors was driven by rapid expansion in the condominium sector since 2014, fuelled by interest from foreign purchases in China, Singapore, Taiwan, Malaysia, Korea and Japan.
"It is likely predominantly speculative, particularly in the high-end or luxury condominium sector where supply is projected to increase. Any sharp decline in prices is likely to be triggered by generally weaker economic conditions abroad, particularly in China. Such a reversal in construction activity could have adverse implications for the real economy, including through impacts on employment," the report said.
Acknowledging the potential rise of NPLs, Kimlong said the government and real estate developers should manage the risks of loan defaults by individual borrowers in the real estate and construction sector, although the National Bank of Cambodia claimed that they are manageable.
Hodge concurred, adding that the figures on the trajectory of NPLs for the second quarter would be more telling as it is the quarter that the pandemic's economic impact started to be felt.
Meanwhile, the correction in pricing as predicted by Moody's is already apparent, proven in CBRE's research where rents and prices displayed a negative trajectory across the sector in 2Q20.
Quarter-on-quarter (QoQ), the market witnessed a further downward correction of sales prices in both the mid-range and high-end segments.
The mid-range sales prices weakened by 4.6 per cent while the high-end sector adjusted downward by four per cent.
However, the affordable sector held steady with an adjustment of only -0.65 per cent, bringing the average sales price in the segment to $1,539 per square metre.
"There was a rise in the number of short-term discounts offered by developers this quarter, as well as some softening in negotiations which have widened the gap between quoting and achieved prices," CBRE wrote.
Galliano said pressure over the condominium segment is a result of high dependence on foreign buyers whereas the commercial market is partially underpinned by FDIs establishing a presence and requiring real estate for corporate investment.
Until there is a return to a degree of normalcy and a hint of rebound, real estate will be under substantial pricing pressure as a result of faltering global economies and lack of mobility of real estate buyers and businessmen.
"Foreign businesses are playing a waiting game before entering closed or locked-down markets, effectively resulting in economic inertia for FDI in these countries, with exception to large corporate expansion," he said.
How bad is the real estate market's cold?
CBRE's Hodge said financing is likely to become tighter as risks have increased and this could add to the sector's stress as it moves towards the second half of 2020.
The impact varies considerably depending on the sector and sub-market that is considered, so one cannot say that the pandemic has affected everyone equally.
"For instance, investments which are attractive to domestic buyers remain largely robust but the difficulties of international travel and the significant impacts on export markets and consumers are affecting a range of industries and sectors.
"Therefore, we can expect some further softening of prices as developers and landlords compete for investors and occupiers," Hodge opined.
Having said that, the impact of the pandemic is ongoing which makes the situation unclear over how much real estate markets are adjusting as a result of it.
"[However] this stage in the cycle will also present many parties with an opportunity, allowing them to access the market at lower price points and potentially help drive innovation in the sector," Hodge said.
Whatever the outcome, one thing is for sure - the new normal for 2021 to 2023 will be dotted with fewer high-rise buildings and few construction projects, until the global economy returns to normal post-Covid-19, Kimlong mused.