An initiative by former Prime Minister Hun Sen will immortalise the names of outstanding athletes and vital contributors to the success of the 32nd SEA Games upon the Win-Win Monument.
This lasting tribute is meant to inspire future generations, both from Cambodia and abroad.
Vath Chamroeun, secretary-general of the National Olympic Committee (NOCC), shed light on the selection process for these esteemed athletes and medallists.
Currently, the Kingdom's sporting bodies have decided to honour Vovinam standout Pal Chhor Raksmey and middle distance runner Bou Samnang.
Assessments for the remaining selections are ongoing.
"We've already decided to recognise the heroism of Bou Samnang. We're also selecting several outstanding gold medallists.
"So far we have Bou Samnang and Pal Chhor Raksmey Raksmey, and we're in the process of selecting more athletes. We're collaborating with the Ministry of National Defence to engrave their names and pictures on the monument," Chamroeun said.
Samnang, who came in last place in the women's 5,000m run at the 32nd SEA Games in Phnom Penh in May 2023, won hearts for her determination to finish the race despite torrential downpour and made world headlines when images of her tear-and-rain streaked face went viral on social media.
Cambodia hosted the 32nd SEA Games in May, with Chhor Raksmey clinching an impressive six medals – four gold, one silver and one bronze.
Her remarkable achievements earned her the Best Athlete Award at the event.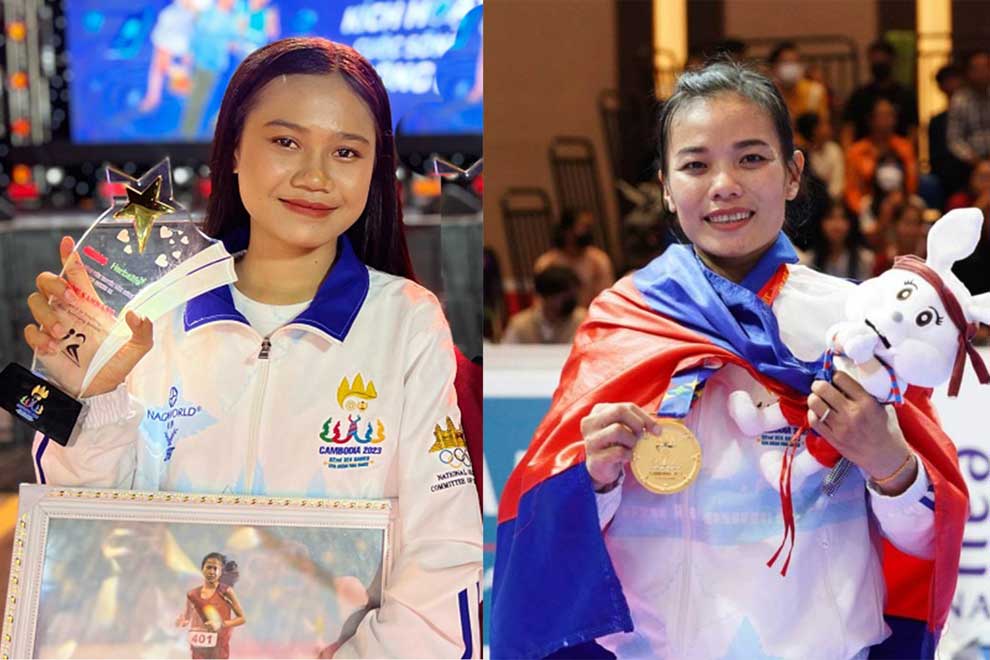 Upon learning that her name would grace the monument's walls, Chhor Raksmey expressed her pride and joy.
"I am absolutely thrilled and grateful to our leaders for acknowledging not just me but all athletes.
"This honour recognises the dedication we all put into training and competing for our nation.
"Our sacrifices as athletes have been greatly rewarded, and the monument will serve as a shining example for Cambodia's young athletes to stay motivated and elevate our nation's prestige," she said.
Chamroeun said the final count would depend on the locations that were ultimately selected for the engravings.
"We've obtained approval from both former Prime Minister Hun Sen and former Minister of National Defence Tea Banh, who heads the Cambodia SEA Games Organising Committee [CAMSOC], and played a pivotal role in advancing this initiative.
"We are determined to complete this soon, now the election period is behind us.
"The number of names selected will vary depending on the engraving locations, but it is important to remember that the games are not only about elite champions, but also many other events and images that will be etched in history," he said.