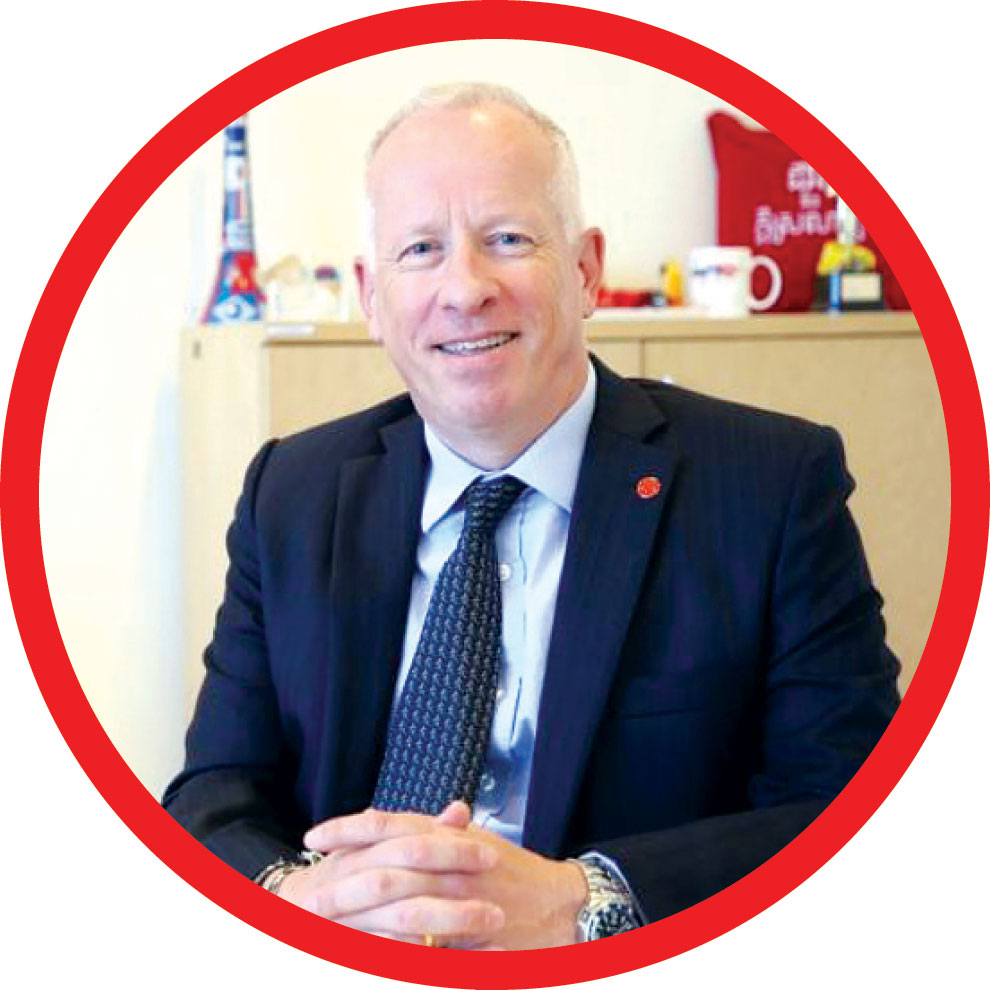 "Cambodia's economy and market outlook remain strong for 2019 and beyond. Rising incomes and wealth combined with an expanding population provides great opportunities across the financial sector. The insurance market remains hugely underpenetrated and there is a growing local appetite. Increasing trust in insurance brands and improving customer understanding of the benefits of insurance should enable significant growth in the market." Mr David Nutman CEO of Prudential (Cambodia) Life Assurance PLC
"According to official estimates, Cambodia's economic growth will remain strong at around seven per cent for 2019. In response to this growth, Bred Bank Cambodia is ready to provide financial and non-financial support to individuals and businesses in the development of their projects. Start with Bred, Grow with Bred." Mr Guillaume Perdon CEO of Bred Bank Cambodia
"Cambodia has enjoyed high economic growth rates of 7.6 per cent per annum over the past two decades without overheating. As regards banking sector and in light of high domestic investment demand, the banking sector and other financial institutions such as micro-finances have been handsomely profitable, attracting new entries and leading to a rapid expansion of the sector. This is reflected in the substantial increase in assets, credits, deposits, demands for bank loans and other bank services. According to recent forecast by the IMF, the country's economy will grow 7.25 per cent in 2018, with low inflation. It is expected that Cambodia's financial or economic outlook for 2019 will remain strong and robust." Dr Soeung Morarith CEO of CHIEF (CAMBODIA) COMMERCIAL BANK PLC.
"Cambodia is poised to continue its remarkable growth story and the adoption of fintech solutions in everyday life will be a strong part of that story. With more regional and global players looking to invest in Cambodia, it is essential for local players like Pi Pay to continue developing in line with local needs and requirements. With our international partnerships with the likes of Alipay and Union Pay, we are in a great position of working with the very best in the business to put cashless convenience in the hands of our users every day." Mr Tomas Pokorny CEO of Pi Pay
Cambodia is well positioned to continue it's consistent record of robust growth circa 7% supported by the boom in construction, full employment, and foreign investment, particularly from China. I am concerned about a potential downward price adjustment in real estate prices, continued wage inflation, and possible further foreign government actions. Other than that, the outlook is bullish, save any global event that derails the economy worldwide. Mr Anthony Galliano Group CEO Cambodian Investment Management Holdings
We feel positively about our continuous growth in the Cambodian economy. Real estate (RE) investment will have positive spillover effects on other business sectors and middle-class households. The banking industry will maintain its steady growth, even with more players emerging in the market. More people are open to recent trends, including adopting digital banking as they seek convenience and good experiences. PPCBank is always on the forefront of banking, introducing innovative services and products on both online and offline channels while maintaining financial soundness and operational risk control. Mr SHIN Chang Moo President of PPCBank
"We are cautiously optimistic about 2019 as the momentum of growth augurs well for our Group in spite of the uncertainty over the EBA. Nonetheless Phillip Capital Group 's largest investment is in Cambodia with more than USD100M amongst the 17 countries where we operate. It exemplifies our Group's view on the long term prospects of the country." Mr Ong Teong Hoon Shareholders' Representative -Phillip Capital
"The insurance industry continues to grow year-on-year, especially 27 per cent in 2017 contributing 0.3 per cent of GDP according to the IAC. It reflects businesses and families in Cambodia understand how to manage risks together with ability to use it. This is a positive sign toward sustainable growth of Cambodia's financial system. I strongly believe there is a huge potential market to be reached in the future where Camlife turns its direction as an insurance company for every Cambodian family." Mr Tondy Suradiredja CEO of CAMBODIA LIFE INSURANCE PLC.
"Mobile technology has transformed the way we live, work, travel, shop and stay connected. As a FinTech company, DaraPay constantly strives to provide innovative financial services that meet the changing need of our customers. In 2019, we will be offering more solutions to address the growing demand for convenience and access to financial services ensuring that DaraPay stays at the cusp of innovation and offers superior customer experience." Mr Phok Ratha General Manager of DaraPay